Episode 3: Welcome to today's episode of Dr. Todd Black's podcast. People assume using a mobile chiropractic care service must be more expensive than traditional models of care. Dr. Black discusses this misconception and explains how Chiropractor2U is able to bring high-quality chiropractic treatments to your home or office, with little or no out-of-pocket expense to his clients.
Dr. Black's Focus on Minimizing Patient Expenses
From the start, Dr. Todd Black wanted to make it easier for patients to get the quality care they needed. The fees he charges to treat you at your home or office are the same as if you were to treat with him at a traditional office.
In fact, because the majority of the patients seen by Chiropractor2U have recently been involved in an automobile accident, the majority of the treatment cost will be covered by insurance. Patients typically have little to no out-of-pocket expense (i.e. a deductible). The deductible can be held on account and settled up at the end of your accident claim.
In the state of Kentucky, no-fault insurance pays for medically necessary treatment resulting from a motor vehicle accident. It generally provides up to $10,000. This is commonly referred to as no-fault coverage or personal injury protection ("PIP"). It automatically covers insured drivers and each passenger.
How Does It Work?
Dr. Black has a mobile bus that he uses to enable him to perform chiropractic exams and adjustments, inside the bus. This innovative approach is how he's able to conveniently treat patients at their home, office or other location. You might say he delivers "Heals on Wheels."
To schedule an appointment, you can either contact Chiropractor2U via the website (www.Chiropractor2U.com) or if you prefer, simply call or text (502) 309-9037 to get started.
Dr. Black has practiced for over 25 years. He's certified by the American Board of Independent Medical examiners as an independent chiropractic examiner, signifying expertise in both impairment ratings and independent chiropractic evaluations.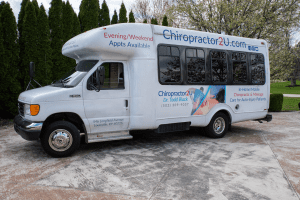 Your Initial Visit with Chiropractor to You
Once you have contacted Dr. Todd Black, you'll need to complete a few standard, medical forms. You can download them from the website or Chiropractor2U can send them to you via courier.
Once Dr. Black arrives at your home or office, he will listen to you describe the accident and the resulting pain you're experiencing. Dr. Black will perform an examination to see how and where you are sensing pain. In Episode 2, we discussed how patients may not realize their range of motion is being limited. The initial exam will uncover this and may help to better understand what is the specific source of your pain.
If x-rays are required, Dr. Black may refer you to a walk-in radiology facility. If he prescribes the need for x-rays, the no-fault insurance will typically cover this medical expense, as well. If you have already been to the ER, he may be able to review any x-rays that are already available.
After the diagnostics have been performed and reviewed, Dr. Todd Black will ease you into a treatment plan designed and customized specifically for you and your condition.
Soft Tissue Manipulation
Many accident victims experience soft tissue injuries. These are injuries to the muscles, ligaments and tendons resulting from the violent forces the body experienced during the auto accident. Dr. Black will use chiropractic techniques to identify the location of the pain and begin manipulating the area to ease the pain.
People may not realize that the body produces chemicals to help itself recover from an injury. This is part of the inflammatory process. Dr. Black's chiropractic manipulation techniques work with the tissues to reduce the inflammation and help to relieve the patient's pain.
Soft tissue manipulation is different from an actual adjustment. It's similar to a typical massage, but chiropractors employ different techniques to get the medical results they are targeting. He may use some stretching exercises, moist heat, electric stimulation (such as a tens unit). All of these treatment modalities are available and performed on the treatment bus.
What Areas Does Chiropractor2U Cover?
Dr. Todd Black services the entire Louisville metro. This includes downtown, Prospect, Fern Creek, Okolona and even Shepherdsville and Elizabethtown. Chiropractor2U was developed to make quality injury care simple, easy and affordable.
As we wrap up this episode, remember, "I'm Dr. Todd Black and I've got your back!"
Be sure to follow Chiropractor2U on Facebook. If you're in pain, call or text (502) 309-9037 today to set up your adjustment. Don't let back pain keep you from enjoying life.
https://www.chiropractor2u.com/wp-content/uploads/2022/04/podcast1.jpg
2000
2000
Chiropractor2U
https://www.chiropractor2u.com/wp-content/uploads/2022/04/logo.png
Chiropractor2U
2022-04-21 15:52:32
2022-06-02 15:17:38
Treatment with No Out-of-Pocket Expense