Don't Let Pain Prevent You From Getting Help
Dr. Todd Black was interviewed by Wave Listens Live host John Ramsey.  They discuss how Chiropractor2U is the mobile solution, so don't let pain prevent you from getting help.  You can watch the entire interview at the bottom of this page.
Interview Transcript:
John Ramsey:
Chiropractor2U is exactly what the name says. It's chiropractic service that comes to you. This, to me, makes perfect sense because I can't tell you how many times I've had a back issue and I said, wow, I wish I could make it to the chiropractor, but it's hurting me too much to get in and out of the car. So let's talk to the man behind the method here. Dr. Todd Black joins us. Dr. Black, we go back a long way, man. Good to see you.
Dr. Todd Black:
Likewise. Great to be here today.
John Ramsey:
I am so glad you're here because I think this is a genius idea. You were giving me a little bit of history on how it was created. So talk to me a little bit about maybe some of your early patients and why you decided to bring your practice to them rather than them coming to you.
Dr. Todd Black:
Okay, John. Well, I started out working for a doctor in Glasgow, Kentucky, who concentrated almost exclusively in motor vehicle accidents. And that's where I cut my teeth, so to speak.
John Ramsey:
There we go.
Dr. Todd Black:
And then after I got into practice for a little while, sometimes I would see people that were not able to make their appointments, and then I would inquire, Hey, what happened? They'd say, well, I had to work late, or I have childcare issues, or whatever. And I started thinking, what could I do to sort of take those impediments to care off the table? And so I started going to their houses and working on them there like I did when I used to work in the catering business.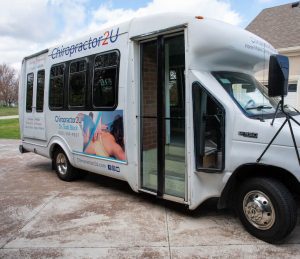 John Ramsey:
Oh, interesting. So, I see the need right away because first of all first thought is, well, if I'm in pain and I'm not too mobile, I don't want to have to get in and out of a car. But then you're saying, well time is of the essence. And like you said, all of these appointments and everyone's got schedules and kids and groceries and this and that. You're saying, I come to you, I make it easy, then you don't miss your appointments and then therefore you get better quicker. Correct?
Dr. Todd Black:
Yeah. That's called compliance.
John Ramsey:
There we go.
Dr. Todd Black:
All right? And that's something that medical people strive for. Like for example, the fewer pills you have to take, the more likely you are to be able to comply. So if you have less things to do to get to care, then hopefully the same thing will happen that you'll be more compliant and hopefully more enjoyable. We actually have a pretty good time when I'm hanging out with people. I get to know the patients pretty well and I enjoy it a whole lot driving around town.
John Ramsey:
You're a people person.
Dr. Todd Black:
Yes, I am.
John Ramsey:
And helping people. I can tell you're very compassionate. So Chiropractor2U, who would this be a good choice for Dr. Black? Who would you say this would fit them perfectly?
Dr. Todd Black:
Well, the number one person that it would be good for is anyone that's been in a motor vehicle accident recently and has suffered some sort of injury. A lot of times, we're dealing with sprains and strains, like you mentioned, of necks, backs, shoulders, knees. Sometimes people have ruptured disc or headaches is a very common one, or pain down the leg or pain down the arm, something like that. Numbness, tingling, all those kinds of things that sometimes occur after a motor vehicle accident.
John Ramsey:
So Dr. Black, when I think about a chiropractor's office, I think about all these x-ray machines and all these really complex, huge tables and all that, but you brought a table into our studio. It's an adjustable table. You said this works very, very well for the adjustments that you make, right?
Dr. Todd Black:
It sure does. In fact I'd say that's my third-generation table. I actually got started with a table that I won at a raffle in chiropractic school. And that was kind of interesting because as students, we had to learn by working on each other, but we did have our own equipment. So I got really lucky I won that table and I took it home and I started adjusting my colleagues in school. And I was mentioning earlier to you, I actually did a visit for a guy that was moving out of his house in his U-Haul trailer. And it was at that point I realized, hey, I could cater this just like I used to do when I worked in fine dining here in Louisville and did catering and taking things to people's houses.
John Ramsey:
What I think is great about this is I think all medical professionals strive to do what is best for the patient. You're taking it to another level. You're saying, look, not only can I care for you medically and take care of your issues through chiropractic care, but I'll do it at your convenience in your home. Wherever you happen to be, at your office, I can make this happen. Right?
Dr. Todd Black:
Well, yes. Just think about it, even before you get in a car accident, most often our lives are just hectic as heck. And so then you get into an accident and then you find out, oh, I need to go to care three times a week for the next six weeks, and I've got to squeeze that into my day. And it can be pretty difficult; traffic, sitting in a waiting room, even just sitting waiting for the doctor to get to you. And then of course you got to do the whole thing in reverse, go home and all that. So I mean, I feel like I could save a person about an hour a day on each visit if they do a 30-minute commute and a little bit of weight, something like that.
John Ramsey:
A lot of times when we think about chiropractors, Dr. Black, we have the connotation of, oh, they're going to twist my neck, oh, it's going to really hurt. And you were telling me there's a lot more subtle methods and you know exactly what it takes. So talk about some of the other methods for those out there saying, okay, is this going to be painful?
Dr. Todd Black:
Well, it shouldn't be painful. There are actually about 200 different ways to adjust every bone in the body. Most chiropractors kind of center around two or three different techniques that are popular. One of them is called diversified, which I use, which is a hands-on technique that people see on TV and in YouTube videos. And then there's more light force techniques like for example, where you call it activator, where you use a spring-loaded instrument.
John Ramsey:
I'm seeing this. Show it to us. How does it work?
Dr. Todd Black:
Turn your hand.
John Ramsey:
Oh, I see. And it's very direct.
Dr. Todd Black:
Yeah. Right on the bone. Right on the tip of the bone and it just moves the bone ever so slightly. You know, in chiropractic school when you graduate, they make you take an oath, Doctor, do no harm, well, this is one way to do no harm.
John Ramsey:
Okay. This makes perfect sense to me. Okay. So let's talk a little bit about affordability. Because you're a mobile service is it more expensive for someone, doctor?
Dr. Todd Black:
No. I mean, I like to say doctors make enough already. And I didn't want to give anybody a reason not to avail themselves of the service so I just kept the price the same as what I would charge if you came into my office where I work two days a week, Monday and Wednesday at 2623 West Broadway in case people want to come there, where we also service patients with Anthem Blue Cross Blue Shield and Passport insurance.
John Ramsey:
So we mentioned the fact that you deal mostly with car injuries, people in car accidents. With that being said, what other injuries? You said shoulders, knees, anything that has to do with the skeletal structure, I guess.
Dr. Todd Black:
Sure. Well, my friend says that almost any condition can have a functional component. And so we deal with the structure and the function to try to alleviate people's symptoms. But like headaches are a real common thing after a car accident. I've been in a few myself, and the first thing that I usually get is a headache. And I don't like to tell people, oh, chiropractic's going to cure this or cure that. But people will ask me, Hey, will chiropractic help a headache? And I'm like, well, it depends on what's causing it. If you have a railroad spike in your head, it's not going to fix that, but if you've tried everything else and you haven't been able to get some relief and you haven't tried chiropractic, there's a darn good chance that will help you.
John Ramsey:
Yeah. I think it's interesting that your industry, your business, your part of the medical field has really advanced a long way. In other words, you're not your grandfather's chiropractor. Things have changed a lot. Right? Doc talk about that, some of the advancements.
Dr. Todd Black:
Well, just to give you a case in point, I've worked with a lot of medical professionals side by side. I've worked with neurologists and that were also neurosurgeons. I worked with orthopedic surgeons. I actually was employed one time at a primary care physician's office. And he would just call me into the room where his patient had just seen him and say, Hey Todd, do you think you can help this lady out? And I would say, sure. And look at the x-rays, take them back to my side of the building and make it happen.
John Ramsey:
Now let's talk about insurance. From what I understand, chiropractic care, insurance does cover, correct?
Dr. Todd Black:
Correct. That's one of the reasons I do personal injury is because the fees for the service are covered by your own motor vehicle accident insurance. It's called PIP or Personal Injury Protection, I believe is what the acronym stands for. And it covers the services almost a hundred percent. There's always that nuance where it might not cover something, but that's why I do it. I never wanted to take money off mom and pop's table. I just hated for people to have to make a decision between getting care and doing something else in their life and this is one thing where I found I could do and not have to do that.
John Ramsey:
Wow, I'm just curious, Dr. Black. How much of your practice is mobile care where you go to them? Because I think it's genius and sometimes the best ideas are simple. Because I have had the case where I go, man, I really need to see a chiropractor, but I can't get in and out of bed or like you said, I've got all these appointments, I can't miss one. So what percentage of your business does the mobile?
Dr. Todd Black:
A large percentage.
John Ramsey:
Really?
Dr. Todd Black:
Yes. One of the other things I've done to try to make it accessible to people is I service people on evenings and weekends too. Remember I told you people were having a hard time fitting it into their schedule. So I was like, okay, evenings and weekends, that ought to help a lot of people out. What was the rest of your question?
John Ramsey:
Well, no, I want to get to your slogan, man.
Dr. Todd Black:
Oh, the percentage.
John Ramsey:
The percentage. You said a large percentage.
Dr. Todd Black:
Oh, yeah. I only work in the office two days a week. The other five, I'm doing home care, mobile care.
John Ramsey:
Before I let you go, I have to talk about your slogan. Dr. Black has your back. Is that right?
Dr. Todd Black:
Well, yeah. I mean, I was opening one of my first offices and the guy that was working in my X-ray room goes, Hey, I know what you should put on the bus thing, you know? I said, what? He goes, I'm Dr. Black, you know I've got your back. And I was like, okay. Well, that was 20 years ago and finally, we have now Chiropractor2U, and we were working on some ad materials, and I just threw that in there. I'm Dr. Black and I've got your back.
John Ramsey:
And so where should folks go? Should they go to your website, should they give you a call if they need your help? Which is the place to go?
Dr. Todd Black:
The most direct way is just to dial my number (502)309-9037. But if you want more information, you want to see pictures and videos and things like that, you can go to the website, which is on television right now. That is at http://www.chiropractor2u.com/.
John Ramsey:
All right, Dr. Black, I've enjoyed the conversation. Thank you very much.
Dr. Todd Black:
Likewise. Yeah. Thank you for having me. I appreciate it.
John Ramsey:
Thank you for coming in. Very knowledgeable and making it easy for the patient.
Watch the entire interview below:
https://www.chiropractor2u.com/wp-content/uploads/2022/04/DSC_0246.jpg
599
700
Jim Ray
https://www.chiropractor2u.com/wp-content/uploads/2022/04/logo.png
Jim Ray
2023-04-13 13:06:34
2023-04-13 13:06:34
Don't Let Pain Prevent You From Getting Help